GlobTek offers over-molded versions of Molex Molex Mini-Fit Jr.™ Crimp Rectangular Housing, 2 Circuit, V-0, Dual Row for various types of cables and applications, PN 431-CA70000DD1M8GERFA00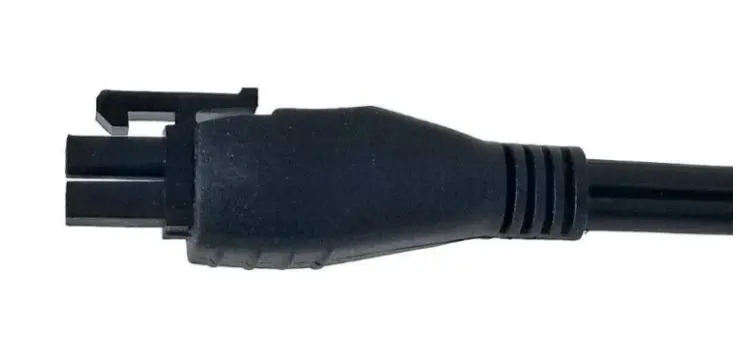 In response to a customer requirement for a clean and professional look and a highly reliable lifespan, GlobTek created a mold tooling for an overmold for Molex 5557 Mini-Fit Jr. Receptacle Housing, Dual Row, 2 Circuits, series including but not limited to housing MOLEX MINIFIT JR 50-36-1673, 39-01-2020, 39-01-2025, 39-01-3022, 39-01-3025, 39-01-3028, and 46-99-20210. The Overmold/boot may be molded on PVC or Silicone material cable jackets. The overmold helps the connector withstand thousands of plug/unplug cycles without risk of damage or wear in rugged applications. The overmold and connector combination is design for use on round UL type 1185 of 2464 wire with and without a shield. The cable assembly can be provided as a cable assembly or as an output cord for a GlobTek power supply.
GlobTek designed the overmold and cable solution inhouse and has the capability to design and manufacture cable assemblies for all types and brands of connectors and cables. Full cable manufacturing and testing facilities are available in Northvale NJ, USA and Suzhou, Jiangsu, China. GlobTek maintains a large range of customized and standard tooling available for customer applications as well as an ability to rapidly design and manufacture custom and bespoke solutions.
GlobTek is a power systems solutions provider with design and manufacturing facilities in the USA and China and sales offices in Germany, France, and the UK. Offering a line of power supplies for applications from gym equipment to medical systems, GlobTek can also develop and create custom power solutions for just about any application. GlobTek is located at 186 Veterans Drive, Northvale NJ 07647. For more information call 201-784-1000 or visit GlobTek online at www.globtek.com.
Made in USA option available.
5 year warranty